Portrait FAQ
---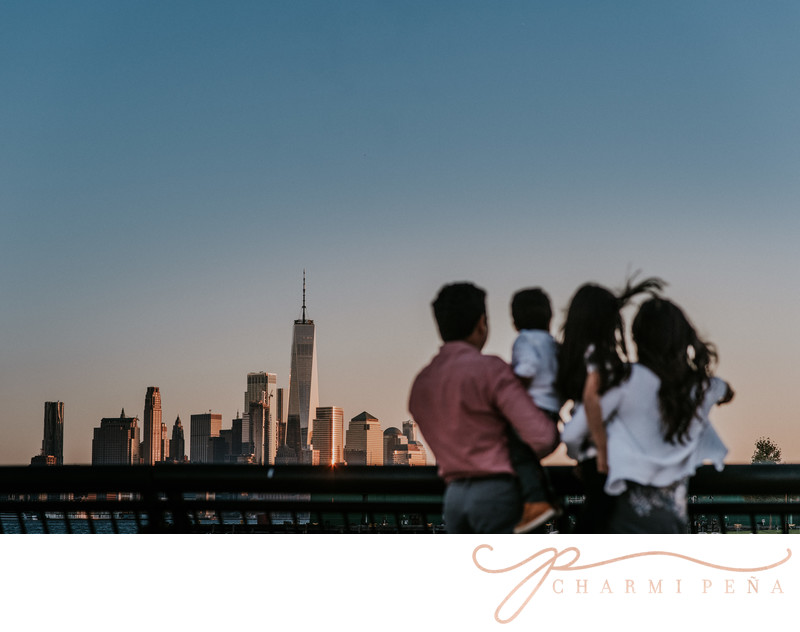 ---
Why do you think portraits are important?
I have the worst memory. It's great actually, sometimes. But the moments in my life I want to hang onto the hardest go so fast, and I can only relive it so much when I close my eyes. My oldest is now almost 6 and I can't imagine how we got here. But then I look at the albums we've made ourselves over the years, the ones we leave out so that Viru and Jai can relive the parts they'll never remember, and it's like I'm back there again. The days they were born… Our trips to disney… Their newborn sessions and their cake smash photos… Our family photos… And I know that as my kids grow up, they will love that those albums are sitting out there. They can take a peak and relive it all, too, jog their memories over and over and that's priceless to all of us.
What do you charge?
Family, maternity and lifestyle sessions begin at $800 including a set of edited digital images. Newborn posed sessions begin at $1000 including a set of edited digital images. For information about maternity/newborn combo sessions please contact me! Birth photograph is also available. Please enquire for details. Albums, custom designed birth announcements & holiday cards and wall prints/canvases are optional but available. Travel fees vary depending on distance.
Please remember – newborns MUST be photographed between day 5 and day 8 after they are born for posed sessions. These sessions should be on the books before baby is born, or I cannot guarantee availability. These sessions can also take up to 3 hours at a time, so please be sure not to plan doctors appointments for the same date. Contact me and let's discuss!
We're in. How do we book?
Hit the contact button up top and let's talk! Once you get in touch, we'll coordinate a date/log your due date, I'll send you a session agreement to sign and send over with your session fee. Then we'll start talking about wardrobe and location and your vision for these precious family heirlooms. Woo hoo!
Newborn between day 5 and day 8??? We'll be so tired!!!
I know. I remember! But for those sleepy posed sessions baby has to be fairly fresh out of the oven! Within a week or two they begin to stretch out as they get used to having all that space…and they get pretty tired of being handled while they want to sleep. So to make sure you get the best out of your financial investment, I only photograph newborns for posed sessions between day 5 and day 8. Sometimes I'll shoot the random day 9 or day 11, but that depends on the baby, how early/late they came, etc.
What I can promise you is that when I come in, I take over. I change diapers, I clean up after blowouts…I do it all. I'll even do the feeding if the baby is bottle fed. Newborn sessions can take up to three hours, so I come ready to do it all. Mom can mostly rest unless baby needs to be fed.
When should I do maternity photos?
Whenever you're showing a good amount and you feel good! I would say between 27 weeks and 34 weeks is a good time. Less swelling, and you're more comfortable than later on.
Do you have a studio? Where do we shoot?
No studio YET - I'm building one this year!!. We shoot at your house for newborns, or at a location we'll choose together for family portraits. Newborn sessions start at 930/10am. Family sessions are generally booked early morning or a few hours before dusk.
We have a crazy idea for family photos. Are you up for it?
YES. PLEASE! Are we doing a science experiment with the kids? Going swimming? Just let me know so I can protect the camera and I am IN. Bake and decorate cookies as a family? Go bowling? I don't know. What else do you all do as a family? Maybe THAT is what we should document for your heirlooms. Even crazier ideas? Let's talk. I'll keep an open mind.
Do we get digital files? Can we print photos ourselves?
Yes. I include a set of edited digital files in every session fee. You can print yourself, I'll even recommend a lab. BUT, please understand, if they mess up the color, there's nothing I can do about that.
What if any of us get sick the day of the shoot?
Then you call me and we will pick another date. I'm a mom, I'm reasonable. I don't want to torture your babies on a 105 degree day or when they have a 103 fever. We let your little one heal and shoot another day.
If I get sick it's up to you. Short of being in the hospital, I'll show up and shoot. But you may not want my germies around your little ones! So I'll call you if I get sick and let you make the call.
When do I need to book my newborn session?
As soon as you're sure you want to do it! I only accept a certain number per week in terms of booking, because only baby knows when baby is coming, and I've had 4 moms from different weeks deliver the same week. So in order to make sure I never have to turn away someone who booked in advance, I make sure not to overbook around due dates.
My baby is 6 weeks old - can I still do newborn photos?
I'm sorry to say that a posed session is no longer an option 🙁
HOWEVER! While those sleepy newborn photos are so darling…you know what else is wonderful? Photos of mommy and daddy learning on the job. Changing diapers, snuggling, feeding, bonding. I love a good new family session, so I say you still call me and we'll make sure you still have great photos that give you that fresh baby feeling.
Can we do family sessions on the weekends?
Weekends are reserved for weddings – and my kids! Because I also shoot weddings, weekends are a rare find! Especially between April and October. Luckily in the summer, sunset is nice and late, so we can usually shoot after work/school – and want to do so – for the best light!
What should we wear?
Not matching jeans and white shirts. Or all black. But other than that, after we book your session, we'll talk about what your vision is, I'll give you some ideas, we'll go back and forth and make sure the whole family is well outfitted head to toe + accessories before the session. If you want, I'll style the whole family and just send you links to purchase.
Any suggestions for hair and makeup?
Be sure to tell your hair and makeup artist that you want soft and touchable hair, no crazy shimmer in your makeup.
Outside of that, this is something else we'll touch on after your session is booked. We'll go over your wardrobe first, and plan your hair and makeup accordingly after. If you don't have a hair and makeup artist in mind, I can send you names!
Do you do gift certificates?
Yes I do! Available in amounts equaling full session fees for family or newborn sessions, we do offer custom created gift certificates! Perfect for a shower or holiday gift – and they are SO gorgeous, the receiver is sure to feel special when they open it.